INTMET PARTNERS
The INTMET industry-driven multi-sectoral Consortium consists of 12 partners from 8 European countries and 1 partner from South Africa. Partners involve 3 mines in operation (KGHM in Poland, Cobre Las Cruces in Spain, Sociedad Mineira de Neves Corvo -SOMINCOR- in Portugal), 3 technology providers (Outotec, Tecnicas Reunidas –TR-, and AGQ – Mining & BioEnergy), 5 public academic centres (Bor Institute of Non-ferrous Metals, Mining and Metallurgy Institute, the French Geological Survey BRGM, the National Research Development Institute for Non-Ferrous and Rare Metals –IMNR-, and Mintek in South Africa) and one consultancy expert network in mineral policy (MinPol). The Consortium has expertise along the entire value chain and most partners are also committed to this technology innovation > Polymetore Commitment. The Consortium is supported by an Advisory Board and an Innovation Committee.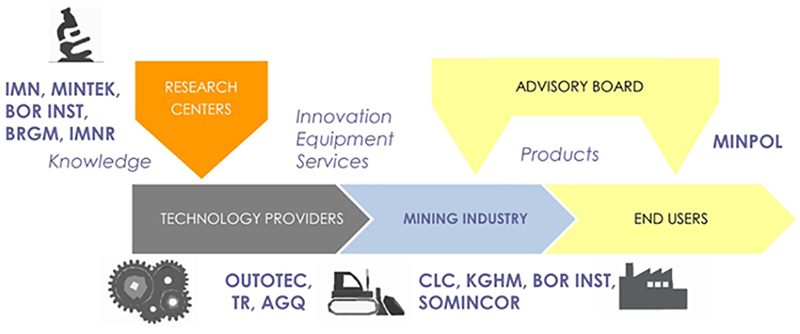 CLC is a mining company with the biggest open pit mine of copper in Europe and a hydrometallurgy plant for mineral beneficiation considered unique around the world. CLC is well-known for its Hydrometallurgical Plant which is very innovative and one of the most technologically advanced in the world for treating copper through the concept "Mine to Metal".
The KGHM Polska Miedz (Polish Copper) company is one of the global leading players in the production of copper and the largest producer of silver in the world (2012)
SOMINCOR is a Portuguese company that owns and operates the Neves Corvo copper and zinc underground mine in the south of Portugal. Somincor was one of the first Iberian mines to adapt ultra-fine grinding and flotation and it has also pioneered the use of paste tailings deposition of pyritic tailings above the previous subaqueous tailings deposition.
Outotec is a Finnish company providing technologies and services for the metal and mineral processing industries. Outotec has developed and supplied state-of-the-art process equipment, on-stream analysers and automation systems for grinding, flotation, leaching, solvent extraction and electrowinning/-refining. The company is a market and technology leader with more than 10,000 flotation machines and 800 on-stream analyser systems around the world.
Tecnicas Reunidas (TR) is an international general contractor, engaged in engineering, design and construction of industrial facilities for a broad spectrum of customers throughout the world, including many of the principal national oil companies and several multinational companies. Focusing on hydrometallurgy technologies, since 1971 TR has maintained a leadership position in engineering and R&D projects in the Spanish Pyrite Belt.
The Institute of Non-Ferrous Metals based in Gliwice, Poland, is a leading scientific centre of the Polish non-ferrous industry. The Institute´s research covers all stages of metallic materials production: ore treatment, waste utilisation, metals recovery, hydrometallurgy, processing of metals and alloys, materials science, all with strong focus on environmental protection.
MINTEK is South Africa's national minerals research organisation and is one of the world's leading technology organisations specialising in mineral processing, metal production and related areas. MINTEK has specialist competencies in biotechnology, mineral processing, hydrometallurgy, pyrometallurgy, mineralogy, metal analysis and process engineering design.
Located in Bor, Serbia, the Bor Institute is a research institute active in domestic and foreign markets in the field of geology, mining, mineral processing, metallurgy, chemical technologies, chemical control, hydrometallurgy, environmental protection, information technologies, industrial informatics, mechanical engineering, electronics, non-ferrous metals and alloys, energy efficiency, environmental protection, ecology and publishing.
Institution in the Earth Science field for the sustainable management of natural resources (including mineral resources) and surface and subsurface risks. It acts as France´s national Geological Survey and its various roles encompass technological R&D and innovation; support for public policies and citizen information; international cooperation and development aid; monitoring of former mining sites.
AGQ Mining & Bioenergy, part of the technological group AGQ Labs, is equipped with international logistic services and laboratories in more than 20 countries which ensure a complete analytical support and specialized assessment. The company offers dynamic solutions for the mining and mineral extraction industry that also support innovative environmental initiatives.
IMNR is a strategic institute with 50 years of activity in the field of non-ferrous metallurgy, material science and engineering. The institute participates in about 40 R&D National Programs together with big industrial companies in the metallurgy of aluminium, lead and zinc industry, copper industry, titanium and zirconium industry.
MinPol – Agency for International Minerals Policy based near Vienna, Austria, is a consultancy and research organization operating world-wide in the field of international mineral policy. MinPol has expertise in the analysis of mineral policies and strategies, permitting procedures, mineral resources market research, monitoring of policy impacts and implementation, land use planning and mineral safeguarding frameworks and social licensing processes.